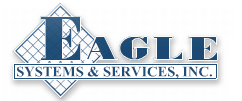 Welcome to the Portal Page
---
If you're a new employee, please Create an Account
---
Creating or Updating your account on this site will provide access to the Employee Portal, Outlook Web Access, and Sharepoint Sites.
Even after creating or updating your account, you may not have access to Outlook Web Access or Sharepoint. Those applications are provided on an "as needed" basis.
---
Corporate Contact Information
Office Hours: 8 AM - 5 PM CST (Mon - Fri)
Toll Free: (877) 399 - 6023
Human Resources Fax: (580) 536 - 4470
Accounting Fax: (580) 536 - 3078
Main Fax: (580) 355 - 5107
it (at) esascorp (dot) com
Create/Update Account
---
If you're an Eagle Systems Employee, you can use the form below to create or update your account.
You will need to fill out this form completely to create an account. If you do not know what to put in a particular field or the system doesn't accept your input, please contact your supervisor or HR to verify that your information is correct.
---
---